Read more

AA Launches COVID CONFIDENT Scheme to Support Hospitality Sector

We are proud to support the AA's new free COVID CONFIDENT accreditation open to hotels, restaurants, pubs, B&Bs, campsites, self-catering accommodation, golf courses and beyond as they prepare to reopen.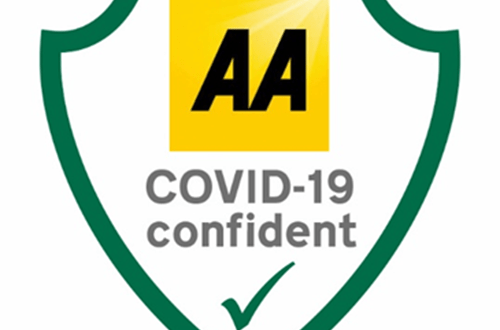 The AA has today announced that it is launching a new COVID CONFIDENT assessment scheme to support the hospitality industry in re-establishing and rebuilding consumer confidence as the UK prepares to come out of lockdown, with each nation working towards a reopening date, the first being England on 4th July.
The AA COVID CONFIDENT accreditation will indicate to customers that an establishment has in place the necessary risk assessments, safety measures and staff training, in line with the Government and UKHospitality's published guidelines, to reopen safely when permitted to do so by the Government. The scheme has already been backed by 19 industry bodies including: Master Innholders, HOSPA, Institute of Hospitality, B&B Association, Glamping Association, PASC, ASSC and the Tourism Alliance.
The AA COVID CONFIDENT scheme is open to all hospitality establishments that pass the AA's stringent criteria, including: hotels; restaurants; pubs; B&Bs and guest accommodation; camping, glamping and holiday parks; self-catering accommodation; hostels; serviced apartments; attractions; and golf courses. The scheme is free to establishments, with applicants encouraged to make a donation to Hospitality Action here under the option "AA COVID-19 Accreditation".
To be eligible for the AA COVID CONFIDENT scheme, establishments can apply via https://www.ratedtrips.com/aa-covid-confident and must meet the AA's criteria, including:
Supplying a risk assessment
Being able to provide clear evidence that relevant procedures and measures are in place, and that staff training has taken place
Completion of an online self-assessment and sign up to the COVID Confident Charter, a code of conduct that will include a commitment to continuing to update procedures and measures as guidelines change, and to submitting to future audits as required
The AA will be providing all those awarded a COVID CONFIDENT mark with regular updates on the latest Government guidelines, Health & Safety Executive Guidelines, and best practice.
Establishments with an AA COVID CONFIDENT mark will be listed on the AA's consumer facing RatedTrips.com website, making accredited businesses easy for customers to find.
Simon Numphud, Managing Director at AA Media, commented: "COVID-19 has had a profound impact upon all those working in the hospitality sector. At the AA we are committed to supporting our colleagues across the industry as we work together to rebuild consumer confidence. We believe that many members of the public will be looking to enjoy days out, short breaks, eating out and other experiences as lockdown eases, but that confidence in the sector is vital. We hope that the COVID CONFIDENT scheme will be a valuable stepping stone for establishments to restore consumer confidence as lockdown eases."
The scheme is open to all hospitality establishments. However, any establishment serving food will need to hold a food hygiene score of three and above to be eligible.
The AA has been trusted by the public as a source of hospitality ratings and recommendations, and by the industry as a benchmark for quality, for over 112 years. RatedTrips.com lists over 12,000 AA and VisitEngland rated and recommended hotels, restaurants, pubs, B&Bs, self-catering cottages, caravan and campsites, and beyond, as well as offering travel inspiration via city guides, recommended things to do, information on local attractions, ideas for days out, and suggested places to visit.
Supporters
Mark Lewis, Chief Executive at Hospitality Action: "Hospitality Action is UK hospitality's benevolent charity, and exists to offer lifelines to hospitality people who find themselves in difficulty or crisis. As hotels restaurants, pub and bars prepare to open their doors again in the coming weeks, there will inevitably be uncertainty, both among staff members and customers guests, around the levels of safety in hospitality environments. We therefore applaud AA Hospitality for creating an industry-standard accreditation scheme that offers the reassurance that workers and visitors can return to venues with confidence."
Kurt Jansen, Director of the Tourism Alliance: "We need to restart the domestic tourism industry in order to protect local jobs and businesses in tourism destinations. This scheme does that by ensuring that every property is safe so that visitors can relax and have a well-earned break in a secure environment."
Andrew Campbell, Chair of the Welsh Tourism Alliance: "The Wales Tourism Alliance welcomes the launch of the AA COVID CONFIDENT Assessment Scheme, which is an important first step in helping tourism businesses to re-open safely and  confidently – and which will also provide much reassurance to staff, customers and our communities."
David Weston, Chairman, B&B Association: "Right now as hotels, B&Bs and guesthouses plan to reopen shortly, there is nothing more important than giving our future guests the confidence and impetus to book their next break.  We want them to book one of Britain's brilliant B&Bs in the confidence that they can do so safely, and with peace of mind. So we are delighted to support the new AA COVID CONFIDENT scheme, especially as it is backed by AA Hospitality, one of the most trusted and experienced names in our business.  We hope it will help consumers book with confidence, and help B&Bs and guesthouses recover successfully by demonstrating they are operating safely."
Alistair Handyside MBE, Executive Chair at The Professional Association of Self-Caterers UK: "PASC UK was delighted to hear that the AA was launching this initiative, which will help give both consumers and owners confidence. AA has been a great partner for PASC and the self-catering sector, and the launch of AA COVID Confident is being recommended to all of our members."
Fiona Campbell, Chief Executive of the Association of Scotland's Self-Caterers: "These protocols will allow our sector to re-open to our guests while ensuring the health and safety of everyone involved during these difficult times. Getting our members back to work is essential for both the health and vitality of our sector but also for the Scottish economy, given that we generate £723million each year in revenue. As we gradually begin to ease lockdown restrictions, we need make sure that the correct balance of rules and freedoms is maintained, and these protocols will form a key part in ensuring that balance."
Rob Farrow, Chairman of The Glamping Association: "The Glamping Association has always believed that the key to guest confidence is accommodation providers knowing and ensuring they meet their legal and regulatory responsibilities. The AA COVID CONFIDENT scheme is now an essential part of the mix."
Madeleine Calon, President of Les Clefs d'Or: "The Society of The Golden Keys of Great Britain is delighted to partner with the AA and the COVID CONFIDENT assessment scheme. Guests have always placed their trust in our members to provide the best advice and impartial recommendations, and we hope our participation in this scheme furthers their confidence to return to our hotels."
Beth Bailey, Chair of Premier Cottages: "If the hospitality industry is to gain the confidence of consumers to persuade them to book once we come out of lockdown, then we need to have robust protocols in place that will reassure them we are doing everything possible to keep them safe.  Having independent accreditation by a trusted name such as the AA affirming that each business has done a proper risk assessment, and is following best practice industry guidelines, will be an important part of that process."
Nicholas Davies, Chair of the St Julian Scholars: "As Chairman of the St Julian Scholars I think the AA accreditation mark for COVID -19 is a brilliant initiative. The accreditation ensures hotels are prepared for re-opening whilst also giving guests peace of mind by acknowledging safety measures have been implemented to keep them safe. With over 400 members, St Julian Scholars are delighted to endorse and support this initiative and look forward to seeing it realised across the hospitality industry."
Peter Hancock, Chief Executive at Pride of Britain Hotels: "Our customers throughout the UK will be looking for added reassurance when booking stays over the coming weeks and so we very much welcome this initiative from the AA, in collaboration with UK Hospitality. All of Pride of Britain's member hotels are going the extra mile to ensure their guests' comfort and safety and this assessment scheme will help to further demonstrate that commitment."
James Foice, Chief Executive at The Association of Serviced Apartment Providers (ASAP): "ASAP has developed the International Serviced Apartment Accreditation Process (ISAAP), the leading Global Serviced Apartment standard which has participants in 25 countries and actively promotes the need for robust and credible due diligence and health and safety measures. Our own accreditation now includes the ASAP Stay with Confidence Promise, promising guests Covid-proof hygiene standards. We are therefore welcoming the opportunity to align with the AA's COVID CONFIDENT accreditation initiative which will help unite the hospitality industry behind common standards that the consumer will easily recognise and understand."
Andy Doyle, Membership Operations Manager at People 1st International: "The AA's new accreditation offers businesses a practical solution to demonstrate how they meet new safety and hygiene measures in light of Covid-19 which, as our research shows, will be critical in rebuilding consumer confidence. We know staff training will be vital to this, so we're pleased to see this featured as a key criteria of the accreditation."
Petra Clayton, Chair, The Hotel Marketing Association (HMA) and Founder/CEO Custard Communications: "As hotels and marketers across the UK prepare for properties to re-open, we have been challenged by having to balance informative safety guidance and reassurance with clever campaigns and regular communication to encourage consumers to start booking.  We welcome the support of credible and far reaching organisations such as the AA who can promote and reassure UK travellers so we can start realising stronger revenues again and start populating our British destinations and attractions."