Find out more

Acorn Awards 2021 open for entries

Nominations are now open for the 2021 Acorn Awards, which recognise 30 of the most exciting up and coming hospitality stars under the age of 30.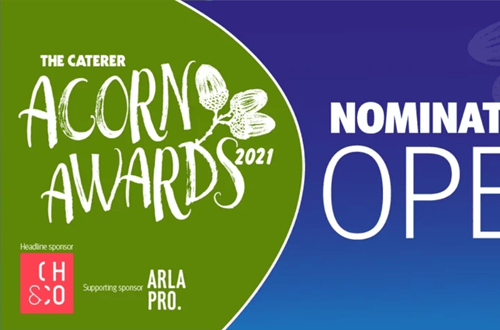 The Acorn Awards are organised by The Caterer in partnership with headline sponsor CH&Co and supporting sponsor Arla Pro. The awards, which are in their 35th year, will, with the help of a highly respected panel of judges, provide winners with the acknowledgement of which they are so deserving – not to mention the recognition that can propel careers.
There are only three criteria to nominate someone for an Acorn Award: they must work in the hospitality industry; be under the age of 30 on 13 June 2021; and be available for the winners' weekend, which will take place at South Lodge hotel in Horsham, West Sussex, on 13-14 June 2021.
David Connell, general manager of South Lodge, said: "We are delighted to be hosting this year's Acorn Awards and cannot wait to welcome the deserving winners. Due to the pandemic we were, sadly, unable to host them in 2020, but it has increased our enthusiasm to hold them this year and are very much looking forward to welcoming the future of hospitality leaders.
"The opening of our £14m spa in March 2019, gives us an opportunity to showcase the wonderful facilities we have created and, by working with some of our local partners, provide an experience the winners will remember. With health and wellbeing being a hot topic, we will focus on incorporating this into the weekend, but of course leave time to celebrate in style!"
Previous Acorn Award winners include chefs Jason Atherton, Marcus Wareing, Glynn Purnell, Elly Wentworth, Will Torrent and the late Gary Rhodes; the founder of Soho House Nick Jones, Tim Axe, commercial director at Benugo, Sandra Bein, head sommelier at Mere, Liam Hatcher, head of learning and development at CH&Co and Liam Barrie, managing director at the Marram Grass.