"An invaluable experience": Edge Hotel School students on the Hotel Leadership Conference 2022
The Hotel Leadership Conference 2022 was a huge success, and benefitted enormously from the assistance of students from The Edge Hotel School. The students worked with us in delivering the conference, and in return had the opportunity to gain experience and exposure by joining the conference, gala dinner and networking. We look forward to welcoming the students of Edge Hotel School to the Hotel Leadership Conference 2023.
Read below what two of the Edge Hotel School students had to say about their time at the Hotel Leadership Conference 2022.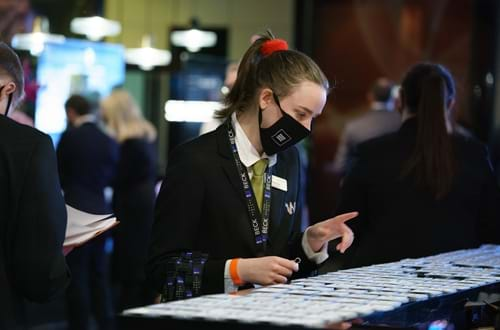 Sebastian Schraag, student at Edge Hotel School
"I had the unbelievable opportunity to attend the 28th Hotel Leadership Conference presented by the Master Innholders, and it was everything I hoped for and more. Having started my university course in October 2020, this was the first opportunity we have had to network with industry experts, and it did not disappoint.
"Initially, I was working at the front desk, registering delegates and working closely with Wallace Vincent in ensuring that all the delegates had their name badge, were familiar with the layout of the event and also ensured that any dietary requirements were taken care of. All of the staff working with me were incredibly friendly and helped me to integrate into the team very quickly.
"When I looked at the brochure of the conference, a couple of talks stood out to me that I wanted to attend and, once I went to listen, I figured why not stay and listen to all of them! After this, I regretted not attending the talks sooner. Even the ones that I was initially not so keen on, were extremely informative and set me in good stead for the start of my hospitality career.
"The gala dinner was another highlight as the food was faultless, the service was second to none and the entertainment was stand-out. I got the opportunity to chat with everyone on my table and it was really interesting to find out where everybody came from.
"The entire event was outstanding from start to finish, and I was so glad I got this amazing opportunity to be able to help out whilst also networking for myself. I look forward to future events, should I be fortunate to be able to attend in the future."
Emily Clark, student at Edge Hotel School
"Working at the Hotel Leadership Conference was an amazing experience! I got the opportunity to network with so many industry professionals, as well as seeing them really let their hair down and relax at the gala dinner in the evening.
"Working at the conference check in desk was an exhilarating time, as I helped hoteliers whose names I knew from my studies at Edge Hotel School find their badges, and I got to put names to faces for a lot of these [people] who have done amazing things with their careers, and whose footsteps I aspire to follow in.
"I also got to listen to so many inspirational and educational talks, which have helped broaden my lines of thinking and assisted with my assignments, as well as providing ideas that I hope to integrate as I progress through my career in this exciting industry!
"Before the gala dinner, I assisted the team with organising the table plan for the meal, so it was incredibly satisfying watching people find their places and name cards on their tables at the gala, knowing that I had helped to make this spectacular event happen. The dinner itself was extraordinary, the food and wine were delicious, the service from the staff at the Park Plaza London Riverbank was highly professional and attentive, and the entertainment of the drummers was a great surprise. Plus, getting to know industry leaders in a less formal setting and building up my network of contacts was an invaluable experience that I am certain will benefit me in the future!"