Institute of Hospitality opens Central London office in Holborn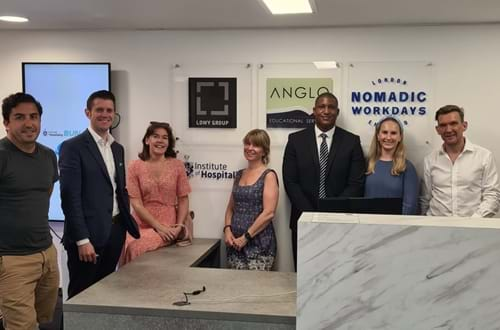 The Institute of Hospitality, the leading international professional body for current and aspiring leaders and managers in the hospitality industry, has opened a new office in Central London.
Located within the Nomadic Workdays Office Building at 5 Richbell Place, Holborn, the "by appointment" office represents an exciting new partnership between the Institute of Hospitality and Anglo Educational Services.
Well-known internationally for its study-abroad and internship programmes as well as student accommodation services, Anglo Educational Services launched Nomadic Workdays in May 2021 to offer creative, flexible office spaces for the travel, tech and educational communities. While the Institute of Hospitality will retain its registered office in Sutton, Surrey, working with Anglo Educational Services to open its first London outpost in nearly two decades symbolises a new chapter for the Institute, one wherein collaboration and connections are seen as key to growth. Moreover, the move recognises the UK capital's indisputable position as a centre of global hospitality.
Romy Turkington, business development and marketing manager of Anglo Educational Services and co-founder of Nomadic Workdays, said, "We are excited to be partnering with the Institute of Hospitality, and to welcome them as members of our newly launched Nomadic Workdays community.
"Our flexible office space offers a great London base for the Institute to network among like-minded individuals within our community. We cherish this opportunity to work with them as the industry gets back to what it does best, which is creating a great atmosphere for people, starting with their workspace!"
Steve Lowy, who co-founded Nomadic Workdays and is chief executive officer of Anglo Educational Services, said, "I am absolutely delighted to be working with the Institute of Hospitality. It was delightful to meet with their Chief Executive Robert Richardson and to hear his plans for the Institute going forward.
"The past year has been one of the most challenging in living memory for everyone involved in both hospitality and education. Working together to face the challenges and move forward can only help our sector thrive again. I look forward to working with the Institute for many years to come."
Robert Richardson FIH, chief executive of the Institute of Hospitality, said, "I'm very proud to be able to say that the Institute of Hospitality now has a Central London base to complement our office in Surrey. This move has only been possible through collaboration with important industry partners like Nomadic Workdays and the support of Romy and Steve, true professionals who have made a fantastic contribution to both the education and hospitality communities.
"Needless to say, everyone in the Institute is thrilled to be back in the heart of one of the greatest cities in the world. Yes, the Institute is back in town!"
The Institute of Hospitality – London office is located at the Nomadic Workdays Office Building, 5 Richbell Place, Holborn, London WC1N 3LA. Robert Richardson looks forward to inviting members of the Institute of Hospitality to the new London office, both virtually and in person, for a series of 'Chief Executive Surgeries' to discuss issues of importance to them as hospitality professionals.