Master Innholders welcomes 9th cohort of Aspiring Leaders
The hospitality industry's leading educational programme for aspiring hotel managers has welcomed its ninth intake of ambitious junior professionals.
The Master Innholders Aspiring Leaders Diploma (MIALD), endorsed by the Institute of Hospitality, is one of the most sought-after qualifications for junior-level hotel supervisors and managers in the UK – so much so that for the first time, two cohorts will be starting in the same year.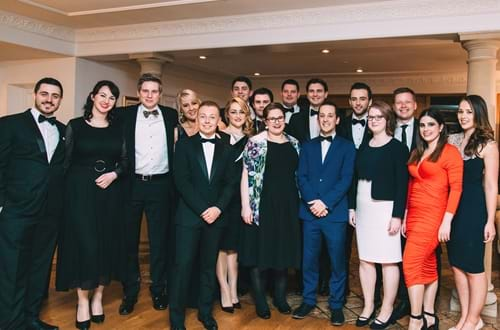 By running two intakes of the programme, with the first starting in April and the second in October, it means aspiring leaders have the opportunity to apply at any point in the year and the industry will benefit from twice as many exceptional professionals being trained to the highest standard.  
Following a rigorous selection process, the Master Innholders has selected 18 talented and driven applicants to join its ninth cohort, starting in October 2019.
The new Aspiring Leaders are:
Andrew DiSora, Kimpton Fitzroy
Charlene Jinguenaud, The Royal Air Force Club
Karen Lee, The Grosvenor Victoria
Raul Martinez, The Arts Club
Ioana Morariu, Park Plaza Waterloo
Eugene Muller, The Dorchester Hotel
Alin Bejinariu, Donnington Valley Hotel & Spa
Edith Godman, Whatley Manor Hotel & Spa
Cassie Parker, The Aviator
Oliver Harris, Fanhams Hall
Joanna Monteith, Danesfield House Hotel & Spa
Ria Rhodes, The Pig Hotel, Brockenhurst
Matilde Salvetti, Brighton Harbour Hotel
Katherine Mercer, Fairlawns Hotel & Spa
Emily Goossens, Northcote
Lydia Sheehan, Thyme, Southrop Manor Estate
Brigitta Kovacs, The Headland Hotel
Simon Fennell, Browns Hotel
Shortlisted candidates were interviewed at Innholders Hall on 13 September by a panel of esteemed hospitality professionals, including Dr Hilary Cooke, MIALD Course Leader and Owner of Merlin Consultancy, Tim Hassell FIH MI, Estates Director at Thurlestone Estates, David Connell FIH MI, General Manager of South Lodge, an Exclusive Hotel & Spa, and Charlotte O'Connell, Captain at Southampton Moxy Hotel.
Starting on 13 October, the MIALD programme offers a 12-month development opportunity combining eight key management modules, taught by industry-leading experts.
This latest cohort – the second to commence in 2019 following an unprecedented level of interest – will also have the chance to see behind the scenes at some of the country's top hotels, including Coworth Park, Bath Spa, Thurlestone Hotel, The Royal Air Force Club, Moor Hall Hotel, Park Plaza Riverbank and The Manor House.
MIALD course leader Dr Hilary Cooke said: "The Master Innholders really recognise the value of investing in talent within the industry, and it is great to see so many people applying for the Diploma – especially as this is the first time that two cohorts will run in one year. We hope that with the improved opportunities to take part, we will see an even wider variety of participants on the programme."
On completion of the MIALD, all participants will achieve an internationally and industry recognised Level 3 Award from the Institute of Leadership & Management and will join a strong alumnus of like-minded peers.